WATERCO ADVANCE PROVIDES REMOTE ACCESS TO PRODUCT INFORMATION
Waterco clients will now have even easier access to product training, information and support through the launch of a new online resource, Waterco Advance.
This site will help Waterco clients better serve their customers by providing fast, accurate solutions and crucial information, using tools including training materials, videos, new product releases and other support information.
Designed specifically for trade which supports Waterco products, it can be accessed remotely via all devices, including computer, laptop, tablet or smart phone. That's especially helpful when staff are on site and unable to source information any other way.
"This information package is 'complete', it's comprehensive, which differs from conventional on-line training or web based videos such as YouTube," says Andy Gale, Waterco Product Training Manager.
"Imagine a service technician going to troubleshoot a salt chlorinator. The technician can bring up the page, review/refresh themselves, go to the job, and with the page still open quickly check procedures. The job is finished quickly, with no frustration, no mess-ups and with no calls back and forth to the shop.
"Equally, it can be a vital resource for a pool builder setting up a new controller. All they need to do is log in, check the procedures and technical information via the easy-to-follow images or short video, then set up and hand over the controller with minimal fuss. It saves time, money and stress!"
Users will save time, increase sales and improve effectiveness.
The site is not visible to the public and requires a login and password to enter. Please contact your local Waterco representative to discuss access.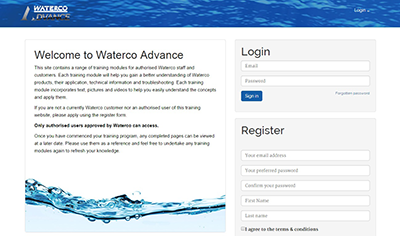 advance-front-page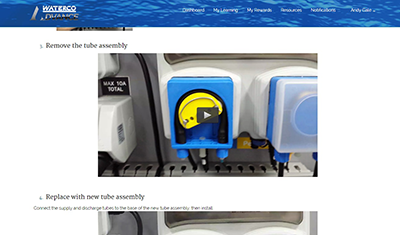 advance-page-example